GBX SeedFiber is unlike any other fiber supplement on the market. It delivers a diverse range of phytonutrients needed for the microbiome system. It's important to take a daily product that helps the overall diversity of our gut microbiome.
It is specifically designed to optimize the communication between your gut and your brain. It also helps to support microRNA signaling (small, naturally occurring RNAs that regulate gene expression). GBX SeedFiber is actually helping to shift epigenetic patterns that express only healthy genes.
It also helps to manage feelings of tension and stress, brain to brain, gut-brain access, and microRNA signaling tension. It can help bring an unregulated microbiome back into balance (think: after constipation- or diarrhea-inducing medications).
It fortifies raw food creations and has a really high antioxidant level, as well as polyphenols.
Components
GBX SeedFiber contains phytonutrient-rich seeds as sources of natural insoluble fibers. This blend will help you feel fuller, longer. It contains sunflower, cucumber, cranberry, black cumin, blackberry, and concord grape seed fibers. This blend supports the immune system, skin, eyes, brain, heart, and stress response.
Key Ingredients
AHCC
It contains AHCC, a cultured mushroom mycelia extract. This extract is rich in alpha-glucans and effective for immune support. Alpha-glucans are the number one immune supporting ingredient that help with both innate and adaptive immunity.
AHCC also supports microRNA signaling between the microbiome and the central nervous system. This unique ingredient helps manage feelings of stress, tension, and anxiety. Studies have shown that this active hexo correlated compound can reduce the production of glucocorticoids during times of stress. This means less cortisol.
They also help to regulate dendritic cells, the cells that sense things in the immune system, to regulate the immune response. This is beneficial for gut health, reducing intestinal inflammation, and shifting the microbiome toward more bacteria and less Clostridium.
This product provides a diverse source of fiber that can be added to blended beverages and healthy baked goodies. The tasteless formula means you can add it anywhere that you want to boost fiber and phytonutrient content.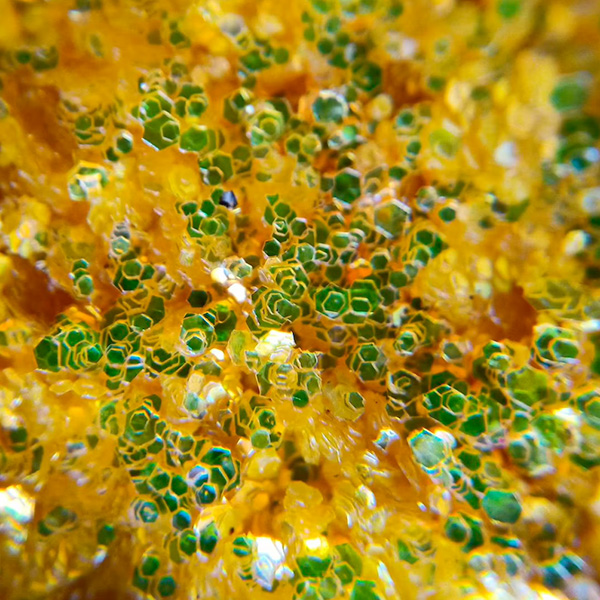 Other Ingredients
Cold-Pressed Seed Powder Blend [Sunflower (Helianthus annuus) seed, Cucumber (Cucumis sativus) seed, Cranberry (Vaccinium macrocarpon) seed, Black Cumin (Nigella sativa) seed, Blackberry (Rubus Fruticosus) seed, Concord Grape (Vitis vinifera) seed]
Shiitake mushroom (Lentinula edodes) mycelium extract (AHCC-activated hexose-correlated compound)
Rice fiber
Bamboo silica
Seed Breakdown
Cold-pressed seeds are an innovative process to obtain high quality seed powder. Most companies use heat to extract all of the fiber, but this exposes the seeds to that heat and alters the thermogenic profiles and alters the profile and the quality of the seed extracts. The heat process provides more of the seed powder per seed, but it's not as high a quantity. So there's  more seed powder per seed, but it's really low quality.
Cold pressed seed powder contains less per seed, but there's a much higher quality with it.
Sunflower seed – a good source of healthy fat; contains micro minerals like copper & selenium; contains folate & vitamin E

Helps with normal cholesterol levels, bone health, heart health, detoxification; supports skin; great source of protein; protects cells from damage

Cucumber seed – great source of fiber and beta carinae

Helps with our immunity, our skin and our eye health

Cranberry seed – great source of vitamin E & omega-3, healthy omega-6 & omega-9 fatty acids

Acts as an antioxidant to protect the body from stressors

Concord grape seed extract – natural source of vitamin A & vitamin E

Critical for skin, critical for circulation & normal cholesterol levels and has great antioxidant effects.

Black cumin seed –

Boosts the immune system helps to support our B vitamin synthesis and has antioxidants as well.

Blackberry seed – rich in omega-3 fatty acids, especially alpha linoleic acid, as well as omega six

Good, healthy fats for the heart and the brain
How to Use
It is completely unflavored, so you can add it to anything. You can put it in smoothies, tomato sauce, soup, cookies, cake, or even cereal.
Companion Products
If you want to up your fitness game and support metabolism and healthy body weight, try GBX Fit.
How to Order

Purchase GBX SeedFiber at Amare.com